LEVEL UP LYRICS – Ikka ft. Divine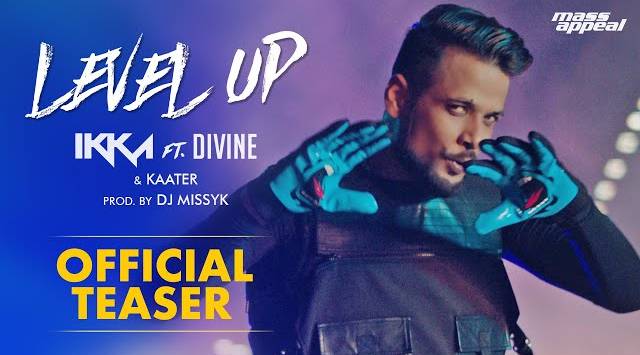 Presenting the Level Up Lyrics sung by Ikka and Divine. The music of the song is given by Kaater and the lyrics is written by Ikka. The song features Ikka and Divine.
Level Up Lyrics
Yeah, Level Up
Yeah, Yeah Level Up…
Main Hoon Bohat Tez Ninja Kawasaki
Main Toh De Doon
Par Meri Baatein Na Deti Maafi
Baar Mere Hard Flow Mera Faansi
Kamyabi Apni Nhi Toh Bohat Pyasi
Yeah, Free Style, F*ck The Hook
Karta Gaane Studio Mein Cook
Leli Maine Jo Tu Gaya Jhook
Main Hoon Legend
Mujhpe Likhi Jaani Chahiye Book
Main Hoon Future Jaise Tesla
Super Import Judge
Jaise Main Sunayu Faisla
Sunju Baba Safety Ke Liye Rakhun Asla
Tell Me Mere Munh Pe Kya Hai Bete Msla
Yeah Mere Yaar Footi Chronic
Purple Haze Indica
Karun Rap Hindi Mein Represent India
Meri Bandi Badi Hot Lagati Wo Bindi Hai
LSD Pop Mere Khulli Chhathi Indriyan
Mere Dreams Mere Liye Hai Reality
Super Hoon Main Star
From Middle Class Family
Follow Me, Aye
Kyunki Bete Ham Hai Transgender
Rap Nahi Bete Ye Hai Love Letter
Ise Sun Ise Padh Jo Bhi Karna Hai Kar
Ya Toh Sir Chadhke Bol Ya Toh Bol Sabko Sir
Ya Toh Sher Banke Jee Ya Toh Bhed Banke Mar
Ya Toh Chhod De Ya Na Chhod Koyi Kasar
B**ch
Level Up, Level Up..
Haan Upar Upar Upar Upar Upar
Nikla Bag Leke Sath Mere Divine Shooter
Kaali Gaadi Gora Paisa Bada Dil Leke
Ham Sab Bill Dete Yahan Pe Na Dil Dete
Chal Chal
Haan Toper Bande Keyboard Pe
Shakkar Milne Pe
Jaise Wo Laate Rakkas 36 Chamber Niche
36 Member Piche 2 Char Usme Gir Gaye
Viswas Toota Dil Nahi
Haan Dushman Mere Dig Gaye
Chal Chal
Level Up Jaise Sher Gully Boy Ke Baad
Level Up Rohit Sharma World Cup Ke Baad
Level Up Divine Apne Har Verse Ke Baad
Level Up Mera Hood Mere Parche Baad
Chal Chal
Level Up, Level Up..
Meri Team Kare Win Win
Tu Apne Din Gin Gin
Lil Wayne, Hopsin
Carryminati Wali Roasting
We Cake Panch Line Nahi
Teri Tarah Nakli Shine Nahi
Glass Mein Sasti Wine Nahi
Bure Din Ab Rewind Nahi
Yeh Yeh Hai Hustle Wo Bhi Real Wala
Too Much Swag First Copy Nahi Real Wala
Do Teen Chhod Koyi Rapper Nahi Real Saala
Bakch*di Ke Jisne Form Bhare
Hamne Chhil Dala
Bol Wala Uss Bowl Ka Jo Bhi Bowl Daala
Adhi Power Teri Khatam Fun Chahiye Faul Wala
Raun Daala Ye Rohb Bottom Hai Rope Wala
Maana Tu Hai Reach Par Teri Gang Broke Lala
Rap Kare Sab Par Rap Inke Khas Nahi
G**d Phaad Likhe Aise Lyrical Hard Nahi
Topi Ulti Motti Chain Sab Hai Inke Paas
Par In Rapper'on Ke Rap Mein
Woh Rapper Wali Baat Nahi
Level Up, Level Up..
Lyrics Written By: Ikka
Song Credits
| | |
| --- | --- |
| Song | Level Up |
| Singer | Ikka and Divine |
| Music | Kaater |
| Lyrics | Ikka |
| Label | Gully gang |
Video Song
This is the end of Level Up Lyrics. If you have any queries or suggestions, please contact us.