Memes
Biggini Shoot: After Rasode Me Kon Tha,Yashraj Mukhate brings another trending meme song Biggini Shoot. Most of the people also...
Arnab Goswami explaining the drugs, his 'Mujhe Drugs Do' rant video goes viral on every social media platform. Mujhe Drugs...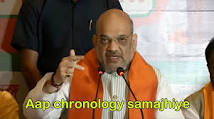 Aap Chronology Samajhiye Meme is a viral meme when The Honourable Home Minister Amit Shah said this(Aap Chronology Samajhiye Meme)...
After Main Gareeb Hu, another thing pops up as a roast to it. Mai Ameer Hu Meme is performed by...