Presenting a patriotic song Aye Mere Watan Ke Logo Lyrics. The song is sung by the great singer of your country Lata Mangeshkar. Lyrics written by Pradeep Kumar and music directed by C. Ramchandra.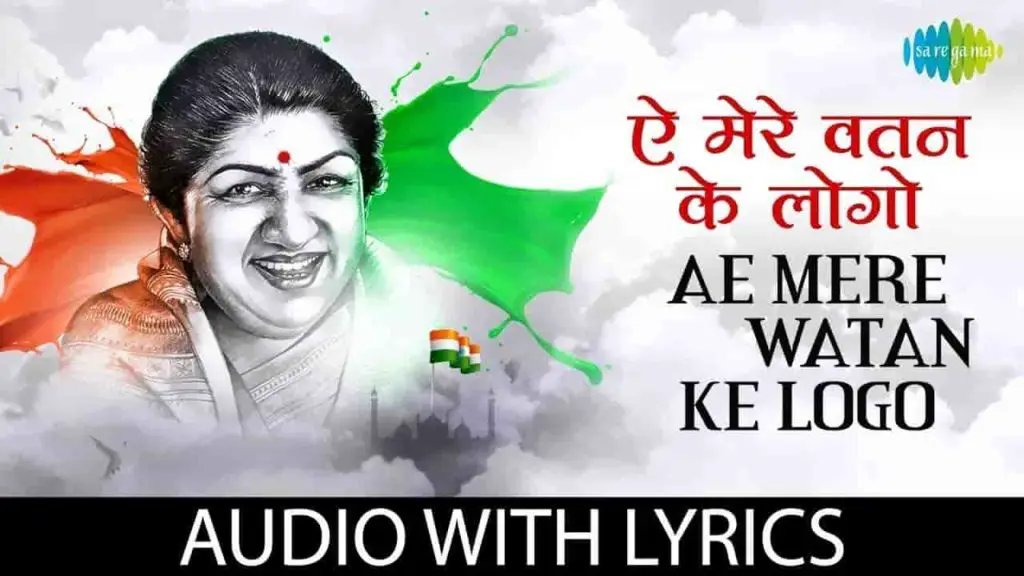 Song Credits
| | |
| --- | --- |
| Song | Ae Mere Watan Ke Logo |
| Singer | Lata Mangeshkar |
| Lyrics | Pradeep Kumar |
| Music | C. Ramchandra |
| Label | Saregama India Ltd. |
Aye Mere Watan Ke Logo Lyrics
aye mere vatan ke logo, tum khub laga lo naara
yeh shubh din hai ham sab kaa, lahara lo tiranga pyaara
par mat bhulo sima paar, viron ne hai praan ganvaaye
kuchh yaad unhe bhee kar lo – (2)
jo laut ke ghar naa aaye – (2)
aye mere vatan ke logo, jara aankh me bhar lo paanee
jo shahid huye hain unakee, jara yaad karo kurbaanee
jab ghaayal huwa himaalay, khatare me padee aajaadee
jab tak thee saans lade woh, phir apni laash bichha dee
sangin pe dhar kar maatha, so gaye amar balidaanee
jo shahid…
jab desh me thee diwali, woh khel rahe the holee
jab ham baithe the gharo me, woh jhel rahe the golee
the dhanya javaan woh aapane, thee dhanya woh unakee javaanee
jo shahid…
koyee sikh koyee jat maratha, koyee gurakha koyee madaraasee
sarahad pe maranevala, har veer tha bhaaratavaasee
jo khun gira parvat par, woh khun tha hindustani
jo shahid…
thee khun se lath path kaaya, phir bhee banduk uthaake
das das ko ek ne maara, phir gir gaye hosh ganvaake
jab ant samay aaya toh, kah gaye ke abb marate hain
khush rahana desh ke pyaaro, abb ham toh safar karate hain
kya log the woh divaane, kya log the woh abhimaanee
jo shahid…
tum bhul naa jaao unako, iss liye kahee yeh kahaanee
jo shahid…
jay hind, jay hind kee sena – (2)
jay hind, jay hind, jay hind
This is the end of Aye Mere Watan Ke Logo Lyrics.
Lyrics Written By: Pradeep Kumar