KEH NA PAUN LYRICS – King | Void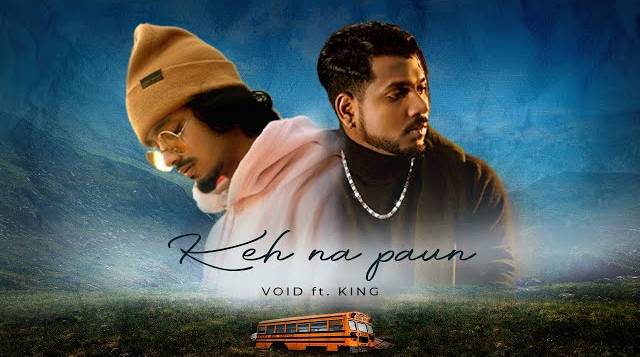 Keh Na Paun Song
Presenting the Keh Na Paun Lyrics sung by King & Void. The music of the song is given by Exult Yowl and the lyrics is written by King & Void. The song features Mukul Bisht , Palak Mehra , Jiya Puri
Keh Na Pau Lyrics
Tu Hai Saza,
Tu Hai Raza
Tu Nasha ,
Teri Ankehon Meh Mai Basa
Teri Baahon Ne Hai Kasa
Mera Dil Bawafa
Khud Ko Kiya Dafa
Khushi Se Mai Jaane Kyun Hoon Khafa
Aur Sun
Tera Mujhpe Koi Karz Nahi
Tere Liye Likha Par Kiya Arz Nahi
Maine Ye Dil Ko Nilami Pe Daala Hi Nahi
Toh Akhir Meh Usko Kharidna Tera Farz Nahi
Kayi Raatein Hai Beetayi Ye Soch Ke ,
Tujhe Baahon Meh Lo Aasun Tere Poch Ke ,
Roz Ke Par Lagta Mujhe Ye Toh Bahane Hai
Kyunki Dafnadiya Dil Apni Chati Noch Ke
Tujhe Chahun Par Keh Na Paaun
Likhun Pura Geet Mai Na Gaaon
Tujhe Paane Se Bhi Pehle Kho Diya Hai Maine
Kyun
Tujhe Chahun Par Keh Na Paaun
Likhun Pura Geet Mai Na Gaaon
Tujhe Paane Se Bhi Pehle Kho Diya Hai Maine
Kyun Sapne Mai Sajao
Tu Mere Sath , Mera Dil Kyun Hai Rawaa
Jahan Tu Chale , Wahan Behti Hawaa
Tu Hi Toh Is Tute Dil Ki Hai Gawah
Woh Galti Thi Meri Par Tu Hai Meri Sazah
Bhaag Jaaon When I Know She Is The One
Meri Hathon Meh Rum / Mere Ankhon Meh Gum
Kehna Mushkil Hai Toh Likhta Mai Geet
Haan Hoon Buzhdil Par Dikhta Mai Theek
Dil Mohabbat Karne Chala
Nahi Mili Hai Salah,
Ajnabi Ti Tarah
Ab Meri Ye Kala
Mera Sath Chor Degi Toh
Teri Yaadon Ki Hathkari Hath Mod Degi
Aur Kitni Dukh Ki Baat ,
Tujhe Pata Na Chalega Dil Tujhpe Aaya Tha
Ek Din Jab Tu Kisi Aur Ki Bahon Meh
Tujhe Pata Chalega M Tere Liye Gaya Tha
Tujhe Chahun Par Keh Na Paaun
Likhun Pura Geet Mai Na Gaaon
Tujhe Paane Se Bhi Pehle Kho Diya Hai Maine
Kyun Sapne Mai Sajao
Ankhein Band Hain..jaanejaan,
Rula De Mujhko.
Sapno Mein Hun..main Jaanejaan,
Jaga De Mujhko.
Wafa Mile..to Jaanejaan,
Wafa De Mujhko.
Khush Hi Rehna..chal Jaanejaan
Seekha De..
Par Kyun Meri Jaanejaan Ye Tere Bina,
Jeena Lage Mujhe Kuch Nahi?
Main Hoshon-hawaas Main Rehke Bhi Gumm
Teri Palkon Pe Dikhe Mujhe Dukh Nahi.
Maine Kitni Dafa Kari Hain Ye Koshishein,
Jaana Galti Ye Teri Nahi.
Mile Jo Kabhi Khulke Bataunga Kaise Ye Peeta Zeher Ke Tu Meri Nahi.
Tujhe Chahun Par Keh Na Paaun
Likhun Pura Geet Mai Na Gaaon
Tujhe Paane Se Bhi Pehle Kho Diya Hai Maine
Kyun Sapne Mai Sajao
Lyrics Written By: King & Void
Song Credits
| | |
| --- | --- |
| Song | Keh Na Paun |
| Singer | King & Void |
| Music | Exult Yowl |
| Lyrics | King & Void |
| Label | VOID |
Video Song
This is the end of Keh Na Paun Lyrics. If you have any queries or suggestions, please contact us.