KHATAM KARONA LYRICS – Emiway Bantai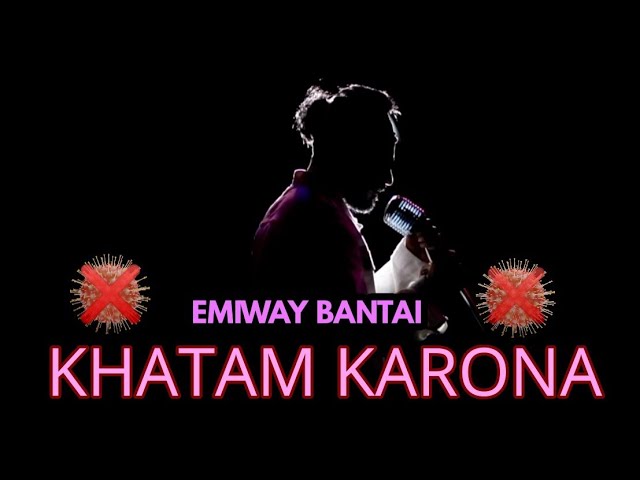 Khatam Karona Lyrics is the latest rap by Emiway Bantai. The song is all about Corona Virus. Khatam Karona Lyrics is written by Emiway Bantai.
Song Details
Music – Psyik
Lyrics/Artist – Emiway Bantai
Video by – Ankit Verma and Emiway
Production – Bantai Studio
Khatam Karona Lyrics
Haan Maalum Hai Na
Aye Door Raho Door Raho
Ek Dusare Se
Haan Taiyaar Hai Ki Nahi Public
Ghar Baithe Baithe Machayo
Baahar Mat Jaao
Gaane Suno Sanitizer Lagao
Aur Suno
Corona virus nai beta yeh karma hai
Darti ka gussa hai
Sabko hi darna hai
Abse nai karna hai
Pritvi ko ganda
Sab kuch chodke
Ab ghar baitha banda
Chal beta banja
Sahi nagrik
Intazar hai uss tarik
Kab hoga sai ?
Jab hoga sai
sab ke zuban pe ek hi sawal hai nai ?
Ghar baithe maze karo
Kyukare dimag ka dhai
Bimari failega nai
Call karo baat karo ugly ko miss karo
Famous honeka toh mereko diss karo
Kuch bhi karo par ghar baitho
Kiss karo mummy aur papa ko
Kam karo Wish karo
Ayee
Bahar nai janeka lati barsarele
Police ko salute hai
Duty nibharele
Doctor log zindagi jane bacharele
Tum kyu mararele ha
Duniya ko insan ne ganda kar dala
House arrest pe sab
Gussa hai uparwala
Tu kuch bhi kyu khara
Khane ko halwa gajar hai
Zameen se niklela fruit hai
Har cheez mei choot hai
Insaan hi bangaya bhoot hai
apas mei ladrele
Jati aur dharam pe
Bhulgaye
Insaniyat
Haivan bane
Bharosa bacha nai beyman bane
Do din ke duniya mei mehman hum hai
Ache jeene janeka
Khaneka peenaka
Kisi se kuch bhi nai leneka
Dil kholke deneka
Maine ka pagar
Dusre ka khake tu
marega dakar
Khudko toh sudhar
Matlabi duniya se
Matlebe udhar
badloge vichar
Dal chawal achar khake tu khush reh
Raste mei kidhar bhi kayko tum thukre
Chup reh
Kutre
Apas mei lootre
Sabko salah dunga
Jaldi se sudhre
Arrgghh

Hawa hora saaf
Paani hora saaf
Malik insaano ko kardena maaf
Abse na dorana
Purani harkate
Firse na milega
Mauka insaanoko
Sabak sekhne mila sabhi
Haivano ko
Chalo milke khatam kare
Kitanu ko
Gharpe raho
Ek hi upay hai
Duniya ko bachane
Hum hi sipay hai
Kya
This is the end of Khatam Karona Lyrics.
Lyrics Written By: Emiway Bantai