LAMBORGHINI LYRICS – Khan Bhaini & Shipra Goyal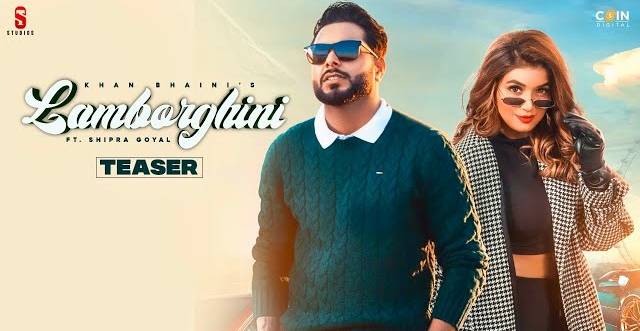 Presenting the Lamborghini Lyrics sung by Khan Bhaini & Shipra Goyal. The music of the song is given by Sycostyle and the lyrics is written by Khan Bhaini. The song features Khan Bhaini & Raj Shoker.
Lamborghini Lyrics
Ve lamborghini waleya main kehni aan
(hunn ki kehni aan)
Ve lamborghini waleya main kehni aan
Tere kamm ne puthe ta main ladd di rehni aan
Tu side te gaddi la ve main na behni aan
Oh rim car de chamkan baliye
Teri wadhgi kahton dhadkan baliye
Ho rakhiyan asle naal bottle'an
Diggi de vich khadkan baliye
Ho bina gal to madkan baliye
Ho ankha de vich radkan baliye
Ve parso di ankh fadak rahi aan
Ni daule jatt de fadkan baliye
Ve saade pindan wall hun gall ji faili aan
Bhaini aala khan taan kehnde vaili aan
Mummy nu loki kehan ke munda vaili aan oye
Sycostyle!
Ve milda tainu ladd ke ki aan
Jatt ladd da yaara karke hi aan
Ve eh taan tainu yaad ni hona
Dass phir mainu tadke ki aan
Oh tadke taan kujh khaas ni baliye
Uthan di vi aas ni baliye
Ve eh ki ghardeyan naal milaunde
Oh birthday tera kaashni baliye
Oh happy birthday to you
Tainu jatt wallon daimond di ring milu
Aaj jatt wallon suneya ni hona kade tu
Aaj jatt wallon aakheya jau
I love you
Har vaari karke kehne ve galti pehli aan
Oh jatti nu leke karda jatta angeli aan
Ve mere wargi naar na bombay delhi aan
Ho na jane khane naal addeya kar tu
Oh fikar na jattiye kareya kar tu
Eh next week ghar wali aaju
Ghare time naal vadeya kar tu
Jo langne ghar ton baahar'aa baliye
Aahin taan din 4'aan baliye
Ve main responsibility teri
Oh chakkan nu jatt taiyaar aa baliye
Ok listen to me baby baitho tussi car ch
Main milke teji nu bas aaya minut 4 ch
Ni kariye involve na bhaiya de pyaar ch
Ni aithe he sabar bas hai nai tere yaar ch
Tu qismat de vich likheya te ghatt ni paini aan
Oh fame te car sada na rehni aan
Jinna cheer jyonde yaar na tension laini aan
Lyrics Written By: Khan Bhaini
Song Credits
| | |
| --- | --- |
| Song | Lamborghini |
| Singer | Khan Bhaini & Shipra Goyal |
| Music | Sycostyle |
| Lyrics | Khan Bhaini |
| Label | Single Track Studios |
Video Song
This is the end of Lamborghini Lyrics. If you have any queries or suggestions, please contact us.