NAACH MERI RANI LYRICS DOWNLOAD – Guru Randhawa
If you are looking for Naach Meri Rani Lyrics Download, then you are in the right place. We have provided the Google Drive Link below through which you can download Naach Meri Rani Lyrics Image.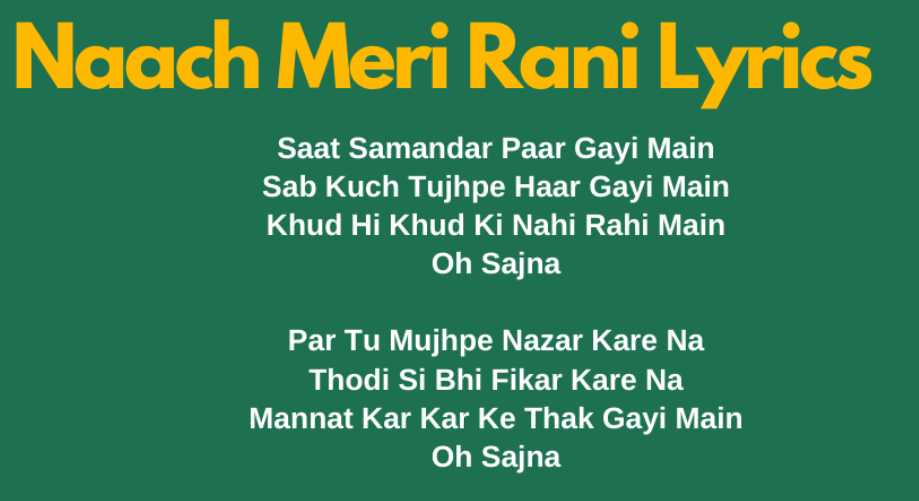 If you want to download Naach Meri Rani Full Lyrics Image, click the download button below.
Naach Meri Rani Lyrics Download

Naach Meri Rani Full Lyrics
Saat Samandar Paar Gayi Main
Sab Kuch Tujhpe Haar Gayi Main
Khud Hi Khud Ki Nahi Rahi Main
Oh Sajna
Par Tu Mujhpe Nazar Kare Na
Thodi Si Bhi Fikar Kare Na
Mannat Kar Kar Ke Thak Gayi Main
Oh Sajna
Lakhon Ka Dil Tera
Ye Tera Thunder Sa Thumka
Ab Nakhara Na Kar Tu
Bijli Banke Ve Tu Floor Pe Aa Gir
Naach Meri Rani Rani Meri Rani Naach
Naach Meri Rani Rani Meri Rani Naach
Naach Meri Rani Rani Meri Rani Naach
Naach Meri Rani Rani
Naach Meri Rani Rani Meri Rani Naach
Naach Meri Rani Rani Meri Rani Naach
Naach Meri Rani Rani Meri Rani Naach
Naach Meri Rani Rani
Pad Gaya Hoon Mushkil Mein
Dil Mera Tadpave
Chhod Ke Duniya Saari
Piche Tere Aave
Dil Dhadkana Bhool Hi Jaate
Neend Veend Ab Mujhe Na Aate
Ho Raha Kya Smajh Na Paate
Oh Sajni
Soche Tu Kya Itna Paas Mere Aaja
Duniya Se Darna Na
Baarish Banke Ve Tu Floor Pe Aa Gir
Naach Meri Rani Rani Meri Rani Naach
Naach Meri Rani Rani Meri Rani Naach
Naach Meri Rani Rani Meri Rani Naach
Naach Meri Rani Rani
Naach Meri Rani Rani Meri Rani Naach
Naach Meri Rani Rani Meri Rani Naach
Naach Meri Rani Rani Meri Rani Naach
Naach Meri Rani Rani
Ho Gayi Hoon Paagal Main
Tune Kya Kar Dala
Raat Din Bas Tera Hi
Jap Rahi Hoon Mala
Pyar Mohabbat Ishq Ki Baatein
Kuch Na Smajh Ab Mujhe Hai Aate
Bin Tere Ab Jee Nahi Paate
Oh Sajna
Tujhpe Marta Tere Moves Se Main Darta
Ab Itna Na Tarsa
Toofan Banke Ve Tu Floor Pe Aa Gir
Naach Meri Rani Rani Meri Rani Naach
Naach Meri Rani Rani Meri Rani Naach
Naach Meri Rani Rani Meri Rani Naach
Naach Meri Rani Rani
Naach Meri Rani Rani Meri Rani Naach
Naach Meri Rani Rani Meri Rani Naach
Naach Meri Rani Rani Meri Rani Naach
Naach Meri Rani Rani
Song Credits
| | |
| --- | --- |
| Song Name | Naach Meri Rani |
| Singer | Guru Randhawa & NikhitaGandhi |
| Music | Tanishk Bagchi |
| Lyrics | Tanishk Bagchi |
| Featuring | Guru Randhawa & Nora Fatehi |
| Label | T-Series |
Music Video